CHARLESTON PULP MILL
CHARLESTON, QUEEN'S COUNTY, NOVA SCOTIA, CANADA
---
"About the time of the destruction of the Bedford mill a German named Ellershausen erected Nova Scotia's first pulp mill on the St. Croix river, between Ellershouse and Newport. He was the owner of large tracts of lumber land about the former settlement, which was subsequently named in his honor. He proposed to form a German colony near the settlement to which he had given his name, and with this end in view employed German hands almost exclusively about his mill. The machinery was brought out from Germany and England. In connection with the pulp mill a paper plant was also introduced. The pulp after passing through the first process was pumped for a distance of 200 yards to the paper mill where the article was completed. After running a short time a fire destroyed the pulp mill. The machinery and water wheels were sold for junk. Later on another mill was started on the same site, but it was never completed, and during the fifteen years it remained idle, the plant rotted down.
During the idle time of the mill at St. Croix there was built about 1881 at Mill Village, Queens, a mechanical mill. This mill was erected largely through the efforts of Emil(e) Vossna(c)k, who was very enthusiastic over the prospective profits. The grinders, eight in number of five pockets each, taking stones (18?) in. by 48 in. of the Voelter screw feed pattern, were built in Halifax. The buildings were put up by H. R. McKay who was the first manager, Mr. Lawrence Howlett being general manager. It ran for some time and was then shut down. About 1889 the mill was again started with John S. Hughes as manager. The second year he was there, there were put in four new grinders and wet machines: this time two-pocket Scott & Roberts grinders were chosen. The mill is driven by two 72 in. wheels under about 20 ft. head, and is located on the Port Medway river, about 1 1/2 miles above Mill Village at Salters Falls. The product is shipped from Port Medway during the winter while in summer vessels approach nearer to the mill."
This mill was managed by John Stuart Hughes from c1891 to 1893.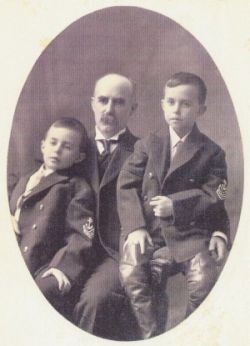 John Stuart Hughes with his Twin Sons John and Jordan
Mill Biographies
Sources:
Canadian Archives
Edwards, Anthony Personal Communications
Hughes, Ian Alexander "Hughes, A Family of Papermakers" (privately published, Melbourne, Vic., 1979)
Hughes, Kathy M. (Family Photo)
Moir, Carmen Personal Communications
Walker, Harley "The Milton Pulp Company"
Nova Scotia Archives
Newspapers:
Nova Scotia "The Halifax Herald"
---
Hughes Paper Mills | Hughes Family Genealogy | Home Page
---